Audio Sermon available here:
Matthew 14:22-33 Jesus Walks on the Sea
22 Immediately Jesus made His disciples get into the boat and go before Him to the other side, while He sent the multitudes away. 23 And when He had sent the multitudes away, He went up on the mountain by Himself to pray. Now when evening came, He was alone there. 24 But the boat was now [b]in the middle of the sea, tossed by the waves, for the wind was contrary.
25 Now in the fourth watch of the night Jesus went to them, walking on the sea. 26 And when the disciples saw Him walking on the sea, they were troubled, saying, "It is a ghost!" And they cried out for fear.
27 But immediately Jesus spoke to them, saying, "Be of good cheer! It is I; do not be afraid."
28 And Peter answered Him and said, "Lord, if it is You, command me to come to You on the water."
29 So He said, "Come." And when Peter had come down out of the boat, he walked on the water to go to Jesus. 30 But when he saw that the wind was boisterous, he was afraid; and beginning to sink he cried out, saying, "Lord, save me!"
31 And immediately Jesus stretched out His hand and caught him, and said to him, "O you of little faith, why did you doubt?" 32 And when they got into the boat, the wind ceased.
33 Then those who were in the boat came and worshiped Him, saying, "Truly You are the Son of God."
1. Remember that Jesus is fully aware of your storm.
2. Remember that Jesus is always with you in your storms.
3. Remember that Jesus will deliver you from your storm, but at the right time and in the right way.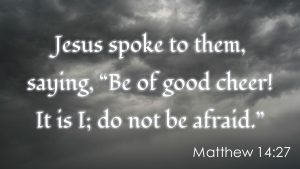 The Lutheran Hymnal #388v3
Just as I am, though tossed about
With many a conflict, many a doubt,
Fightings and fears within, without,
O Lamb of God, I come, I come.
Psalm 139
1 O Lord, You have searched me and known me.
2 You know my sitting down and my rising up;
You understand my thought afar off.
3 You comprehend my path and my lying down,
And are acquainted with all my ways.
Hebrews 12:2
looking unto Jesus, the author and finisher of our faith, who for the joy that was set before Him endured the cross, despising the shame, and has sat down at the right hand of the throne of God.